"Mom can I have an E-Scooter?!"
The childlike urge to explore and wonder is impossible to contain. And why should you? Many of us still remember exactly what our first scooter or bicycle looked like. In a way our taste of freedom with which we were allowed to ride around the block or even to school. When I was three years old, I got a wooden bike with training wheels. Much to my mothers annoyance I would to ride from the living room to the kitchen in an endless loop. At the age of eight I got my first kick scooter. At the age of 12 I finally reached a level of maturity in my grandparent's eyes to be allowed to drive my grandfather's old moped. Which at that age was just about the coolest thing one could possibly do.
From my moped, speed demon past I can understand kids of today their and their obsession with e-scooters. And as a father I can understand many parents' hesitation in purchasing a motorized vehicle for a minor.

The road control in Germany
Just an FYI to the fellow hesitant parents out there, at the age of twelve, children in Germany are allowed to drive on the street at a speed of 12 km / h. Driving on sidewalks and bike paths is of course also allowed. The law came into force in April 2019. A law on the use of helmets for users under the age of 12 years has not been issued.

E-scooter for children from 3 years to 12 years
For this age group the motor must be less than 150 watts. The range can only be a few kilometers and the battery limited to 60-minutes of driving fun. Of course, these e-scooters are not street legal.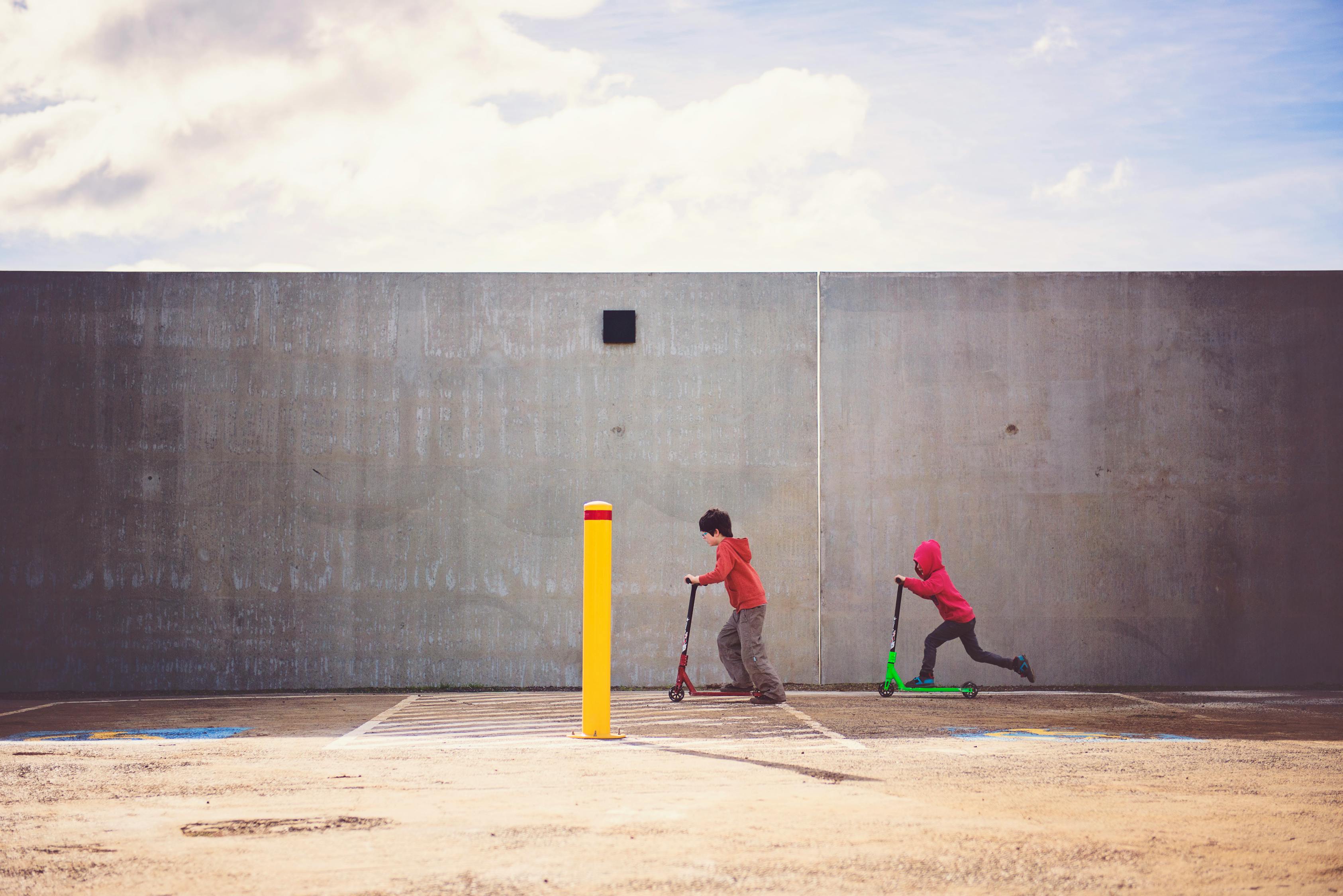 E-scooter in the test
We tested different e-scooter models, made a price comparison and compared online shops.

Electric scooter for children from 3 years

The little ones are allowed to drive and why shouldn't they be when considering to the motto: "Practice makes perfect!" The electric scooters for small children have an integrated seat, which gives them security. With the small vehicles, the children have 40 minutes of driving pleasure and can drive about 3 km / h. For us adults, 3 km / h is not much, but for tiny kids this is very fast. The throttle has been transformed into a child friendly start / stop button. The electric scooter "Razor children electric scooter Lil 'e" can be bought in the online shop at Amazon for just under 60 euros in several colors.

Electric scooter for children from 8 years
When children go to school, they become more independent and want to go to their friend's houses and ride to school by themselves - no problem with the new e-scooter models. The most popular model is the "Razor Electric Scooter with Engine". The e-scooter can be bought for 142.99 euros in the online shop. A more expensive model "TAKIRA Racing V6 E-Scooter" with a better engine is priced at 179.99 euros, but can also be used later than 12 years on public roads.

E-scooter for minors from 12 years
Minors are allowed to drive on the public road. Children over the age of 12 have a larger choice of e-scooters, as more is allowed, meaning that the wattage can be significantly higher than 150 watts and the minors can drive up to 12 km / h on the road. A popular model is the "M MEGAWHEELS" from 235.99 euros. It is available online in many local shops and online. It is foldable and perfect for children from 12 years, as it has hardly any weight and is easy to transport. It is available in different colors: pink, blue and green. The motor can handle 250 watts.

If you are looking for a slightly cheaper option, the "Razor electric scooter" for 198.80 euros is just right. This particular model is only available in black. It reaches a speed of 16 km / h and the battery lasts up to 40 minutes of driving pleasure. The maximum weight for this model is 54 kg for safety reasons and is therefore not suitable for everyone.

Another model is the "Smarthlon electric scooter" with a maximum speed of 20 km / h, the highest safety level and two speed levels. In the price comparison, it is the most expensive, but also the safest model at about 300 euros.

General purchase criteria for a children's e-scooter
What is important for your child when buying an e-scooter? On the one hand, the weight, the e-scooter should not be too heavy or weigh more than 15 kg. This is so that your child can carry their scooter if the battery dies or some other emergency. A height-adjustable handlebar is an advantage, so the electric scooter can adapt to the current height of your child and ensures long-lasting fun. The tires should be filled with air, because the bigger the tires, the less the risk of falling on the roads due to bumps. And very important, even if there is no helmet law on the streets of Germany for e scooters, take my advice from one parent to another: Get your kid a helmet!